Persian zucchini frittata (Kuku Kadoo), the best and easiest baked omelette filled with zucchini, delicious spices and herbs. It is great for breakfast, lunch or dinner. So tender and custard like. Low calorie, low carb and with high quality protein.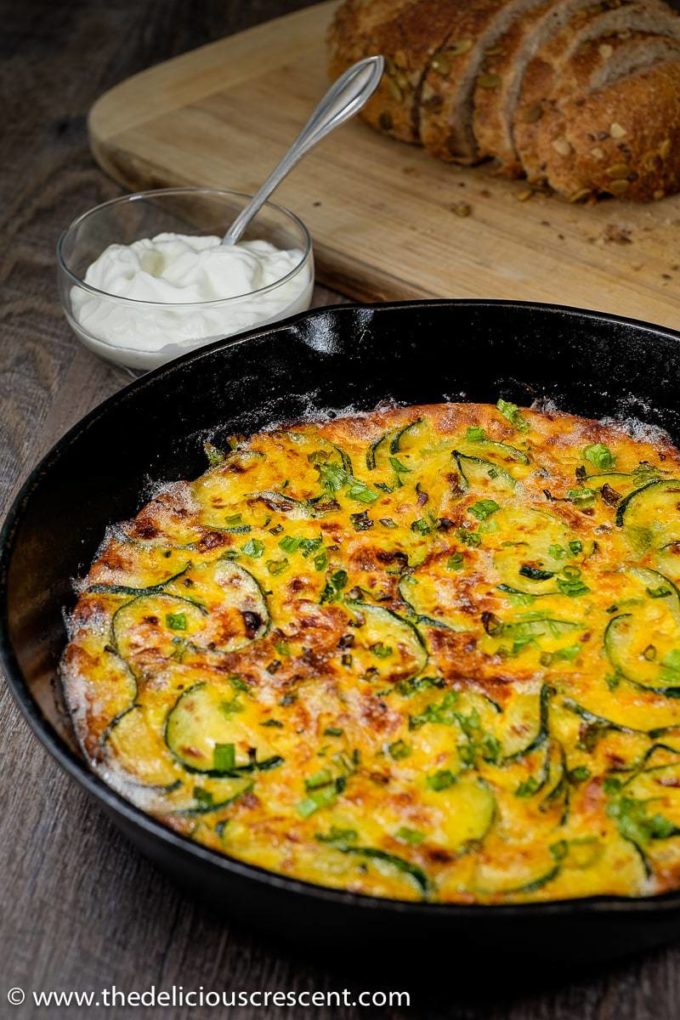 Persian Zucchini Frittata
You've got to try this one. Its like eating a vegetable custard. So tender and with crispy golden edges. It is a frittata, but with a complex yet mellow flavor from the addition of spices.
Persian kuku (frittata) is so easy and quick to prepare and works well for any meal of the day. It combines the high quality egg protein with a load of veggies.
Apart from saffron and Persian spice blend (advieh), kuku has turmeric. The spice which thunders in the nutrition halls of fame! Having grown up in India, I could sing the praises of turmeric all day long, but I will reserve it for another time.
Suffice it to say that, curcumin, the active substance in turmeric has been found to have health benefits for heart health, cancer prevention, brain health, inflammatory bowl diseases, diabetes and more.
Looking for more squash or egg recipes. You may like these:
Is Zucchini Healthy?
So now we will move on to the star of the show – Zucchini! It is a member of the cucurbitaceae family along with pumpkins, cucumbers and gourds.
Zucchini is low in calories and carbohydrates. And high in free radical fighting nutrients such as vitamin C and manganese. This vegetable is also rich in B vitamins, that participate in energy metabolism.
Then it is good for eye health as it is a good source of the carotenoids – lutein and zeaxanthin. It is rich in potassium, the nutrient that balances sodium levels and regulates blood pressure – which makes it very heart healthy. And is a good source of dietary fiber.
Zucchini has a high percentage of water, so it makes a filling and satisfying dish. That is so good for maintaining a healthy body weight with a nutrient dense food. And it is easy to digest too.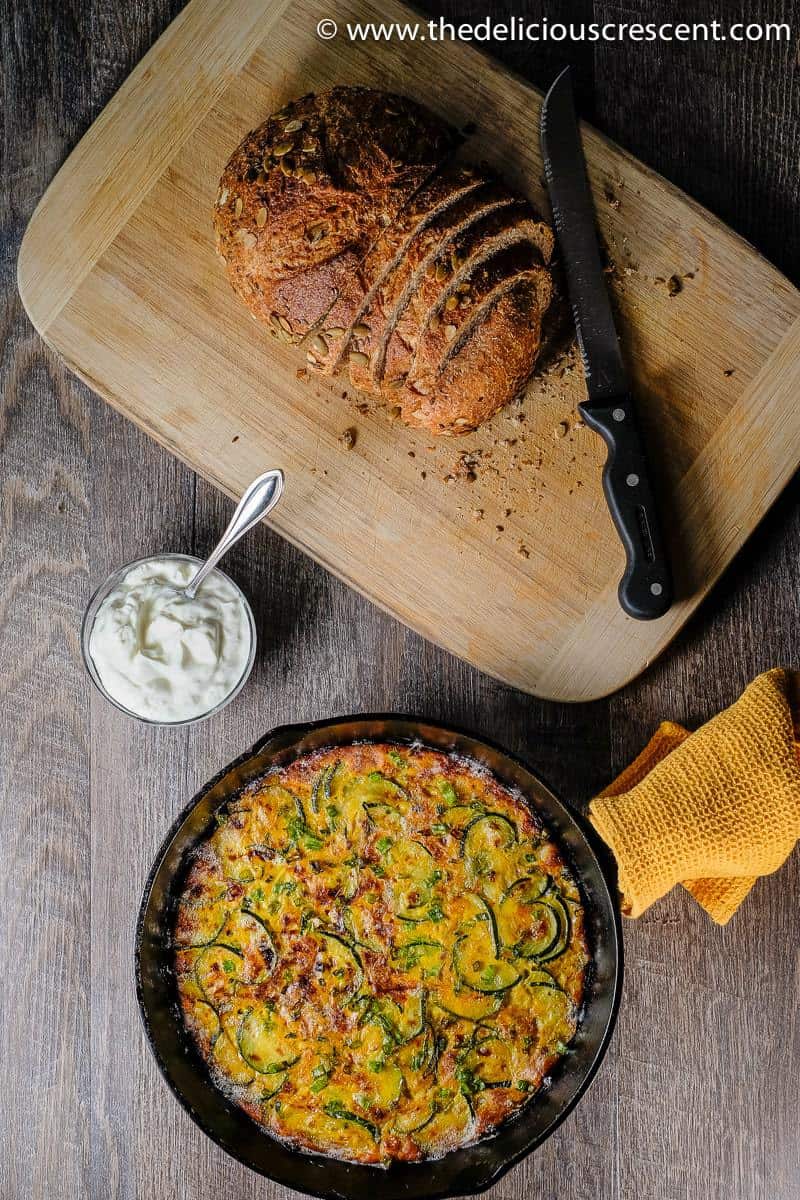 Tips and Tricks: How to Make Zucchini Frittata
Lot of the antioxidant potential of zucchini is in the skin. So, don't peel it away. Use organic zucchini and scrub it nicely with a vegetable brush.
While cooking the zucchini, some juices are released. Be sure to drain the juices very well before adding to the whisked eggs.
You could add some feta or goat cheese if you prefer.
Bake the frittata at a low temperature.
May substitute the Persian spice blend (advieh) with a 'mild' middle-eastern or eastern Mediterranean spice blend.
Traditional Persian zucchini frittata (kuku kadoo) recipes use a pat of butter on the top, but olive oil works well too.
I hope that you enjoy making and eating this golden colored Persian zucchini frittata and give an anti-inflammatory boost to your meal.
Photography above: bijansviewfinder.com
★ DID YOU MAKE THIS RECIPE? PLEASE COMMENT AND GIVE IT A STAR RATING BELOW!
Tag a photo of your creation at #thedeliciouscrescent on Instagram.
Join me on Pinterest, Facebook, Twitter, YouTube and Google+ for latest updates.
Persian Zucchini Frittata (Kuku Kadoo)
Persian zucchini frittata (Kuku Kadoo), the best and easiest baked omelette filled with zucchini, delicious spices and herbs. It is great for breakfast, lunch or dinner. So tender and custard like. Low calorie, low carb and with high quality protein.

Print
Ingredients
1½

lb

zucchini

sliced

1

onion

large, thinly sliced

2

cloves

garlic

large, grated

2½

tbsp

olive oil

1/2

tbsp

butter

(grass fed) or olive oil

6

eggs

large

1/3

tsp

salt

adjust to taste

1/2

tsp

black pepper

ground

1½

tsp

advieh

Persian spice mix*

1/3

tsp

saffron

ground, dissolved in 1 tbsp hot water

1/2

tsp

turmeric

1½

tbsp

rice flour

or all purpose flour

1½

tsp

baking powder

3

tbsp

green onions

or chives, chopped
Instructions
Preheat the oven to 350º F.

Heat 1 tbsp oil in a 10 inch iron skillet. Sauté onions until light golden. Then stir the garlic.


Next add the zucchini and sauté until soft.


Drain any juices and transfer the sautéed zucchini to another bowl.


Then beat the eggs very well. In a separate bowl mix the salt, pepper, advieh spice mix, saffron, turmeric, flour and baking powder.


First, add a third of the whisked eggs into the spice-flour mixture and mix very well. Pour the remaining whisked eggs and stir.


Then add the sautéed vegetables to the eggs and combine. Adjust the seasoning as per taste.


Heat the remaining oil in the iron skillet. Then pour the egg-vegetable mixture and bake it uncovered for

20 minutes

.

Remove the skillet from the oven and spread 1/2 to 1 tbsp butter or olive oil and sprinkle the chopped green onions or chives.


Return the skillet to the oven and bake for another

5-10 minutes

, until it turns golden brown on the top. If needed, may broil the top for a minute or so.

Run a knife around the baked zucchini omelette to loosen it from the pan and cut it into wedges.


This Persian zucchini frittata may be served with bread and yogurt if desired. Enjoy!

Notes
Persian spice mix (Advieh) recipe is on the blog. Ready made advieh is available at Persian or middle eastern grocery stores or online.
May use a middle eastern or Mediterranean mixed spice as a substitute.
The Zucchini kuku is gluten free when using rice flour and not the alternative option (all purpose flour).
Check the blog post for more tips.
NUTRITION FACTS
*Phosphorus 179 mg  
Nutrition
Serving:
1
wedge
|
Calories:
165
kcal
|
Carbohydrates:
8
g
|
Protein:
8
g
|
Fat:
11
g
|
Saturated Fat:
3
g
|
Polyunsaturated Fat:
2
g
|
Monounsaturated Fat:
6
g
|
Cholesterol:
166
mg
|
Sodium:
211
mg
|
Potassium:
517
mg
|
Fiber:
2
g
|
Sugar:
3
g
|
Vitamin A:
10.5
%
|
Vitamin C:
27.3
%
|
Calcium:
10.5
%
|
Iron:
8.2
%