Sahlab is a healthy and delicious beverage flavored with orange blossom and cinnamon. It is SO creamy. Hot or cold, it is so soothing and refreshing!!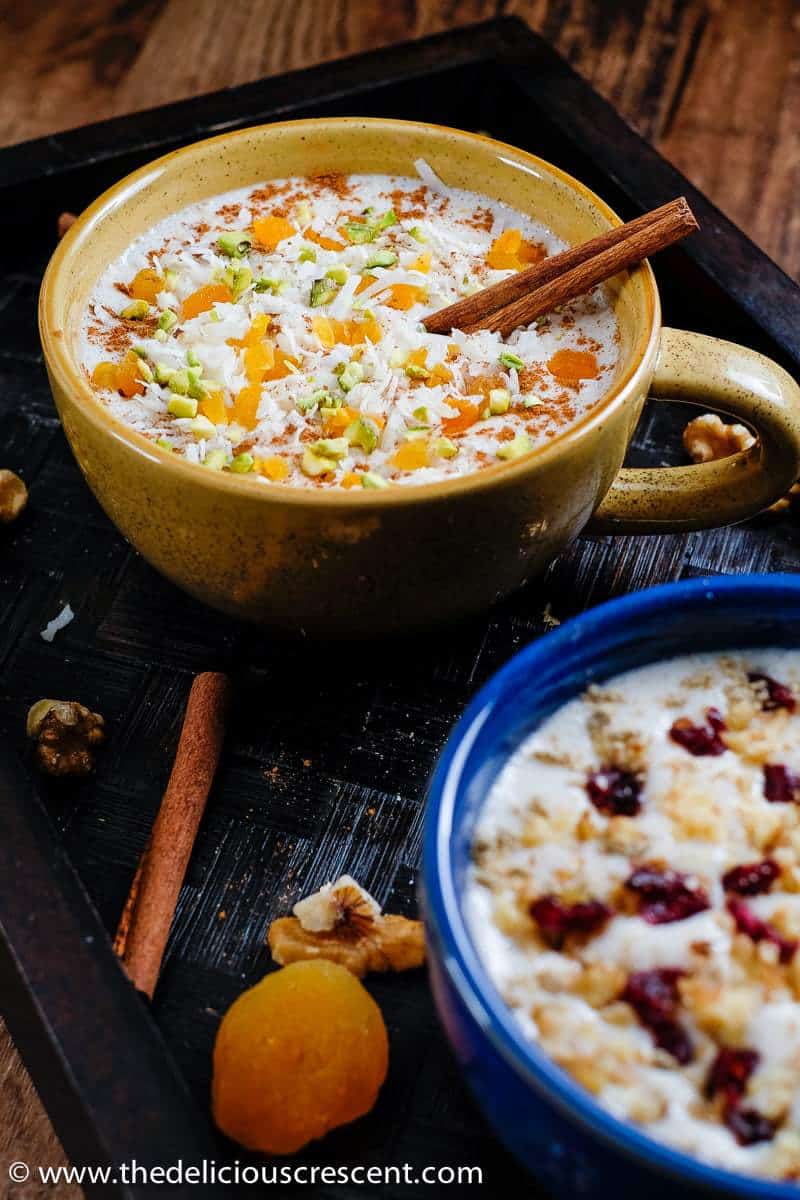 What is Sahlab or Salep?
This is an adapted version of a popular middle eastern beverage known as Sahlab, traditionally made with a starchy flour prepared from the tubers of certain wild orchids. The starch in those tubers contains the polysaccharide glucomannan.
The origins of this beverage were in the erstwhile Ottoman empire, through which it became widely popular in the middle east, eastern Mediterranean and all the way to Europe. The beverage is like a very thin pudding or heavy cream in consistency with tiny crushed toppings, which you would relish like in a fruit punch.
Due to the popularity of this drink, that specific variety of wild orchids were over used, bringing them to the brink of extinction. Therefore, Sahlab beverage powder made with real orchids is never exported and is in fact illegal. The Sahlab drink mixes available outside of Turkey/Middle East are corn starch based and use artificial flavorings.
Sahlab Drink - Nutrition Facts
This is a light dessert with a good amount of high quality protein. It has the omega 3 fatty acids from the walnuts. And it is sweetened with dates and honey - so NO refined sugar! It is also topped with extra nuts and dry fruits for your good health.
How to Make Healthy Sahlab
So I decided to create my own version of the Sahlab beverage, that is so popular in winter time and ubiquitous in the cafes of the eastern Mediterranean and surrounding areas. The commercial drink mixes use corn starch to approximate the creaminess of the original Sahlab. I thought that barley would work even better. So I gave it a try.
Not only did it result in a delectable and rich creaminess that I appreciated more. But also, when the mixture is run through a high speed blender such as a Vitamix it even results in a creamy foaminess. Plus barley is so good for you!!
This Healthy Orange Blossom Cinnamon Drink is flavored the way it is, because that is my preference and it also happens to be the popular flavor choice for this beverage. But you could try rose water and other toppings. I think that cinnamon works the best for the sprinkle on the top, but you may try ground cardamom too.
More Delicious Beverages:
★ DID YOU MAKE THIS RECIPE? PLEASE COMMENT AND GIVE IT A STAR RATING BELOW!
Sahlab - Orange Blossom Cinnamon Drink
Sahlab is a healthy and delicious beverage flavored with orange blossom and cinnamon. It is SO creamy. Hot or cold, it is so soothing and refreshing!! This is an adapted version of the popular middle eastern beverage.

Print
Servings:
4
(6 oz portion)
Instructions
Put the milk, barley, walnuts, dates and honey in a

Vitamix blender

. Then grind it until very smooth.

Alternatively you may grind the mixture in any other

high speed blender

to as smooth as possible.

Strain the mixture through a fine sieve and pour it into a saucepan.

Bring the mixture to a slow boil at medium heat, making sure to stir as needed. Do not allow it to stick in the bottom of the saucepan.


Once the mixture is well cooked and thick like heavy cream consistency take it away from the heat source.


Stir in the orange blossom water. Adjust the sweetness and flavoring to your taste.


Pour it into serving cups. Sprinkle the ground cinnamon and the toppings as per your preference.


Serve this healthy Sahlab drink steaming hot.

Notes
Orange blossom water, rose water, dry coconut flakes and cardamom are available at Indian/Middle eastern grocery stores, online and other general stores that carry ethnic products.
Nutrition
Serving:
1
(6 oz portion)
|
Calories:
172
kcal
|
Carbohydrates:
25
g
|
Protein:
8
g
|
Fat:
5
g
|
Saturated Fat:
2
g
|
Cholesterol:
14
mg
|
Sodium:
84
mg
|
Potassium:
357
mg
|
Fiber:
2
g
|
Sugar:
19
g
|
Vitamin A:
181
IU
|
Vitamin C:
1
mg
|
Calcium:
221
mg
|
Iron:
1
mg