Coconut Mango Smoothie Bowl is a delectable treat packed with satiating nutrients - protein, fat and fiber - a sure way to rein in those hunger pangs any day!
If you want to make a richer dessert, then this amazing mango cake will work. Or this refreshing falooda with mango.
Coconut Mango Smoothie Bowl
Nothing says "Tropical Summer" like a coconut mango smoothie topped with juicy lychee served in a coconut shell. Layer that luscious smoothie with some chia seeds soaked in milk for some nutritious texture surprises.
Sprinkle some hemp seeds, chia seeds, coconut flakes or almond slices on the top for a delicate crunch and an added nutritional punch. And you have a bowl of goodness in taste, flavor and nutrition with a tropical flair.
I had originally developed this mango smoothie bowl for those undertaking long summertime fasts, as the satiating nutrients can help sustain a fast. But this could also be a treat "once in a while", as it is high in fat and especially saturated fat.
Nutrition Facts
There is a lot of debate about the use of coconut products in diet. Some say it is super healthy due to its distinct saturated fatty acid composition and process of digestion. And still several experts caution that there is not much convincing evidence yet to use it routinely in place of confirmed healthy fat sources.
Until we know more, I lean toward the latter held position. I surely love and enjoy coconut but believe that it can be part of a healthy diet when used in moderation.
Mangoes are not simply about taste and pleasure alone. These fruits are rich sources of vitamin A, vitamin C and fiber. The beta carotene (which converts to vitamin A) is known to be protective against cancer. The high fiber and water content in mangoes aid with maintenance of intestinal health, regularity and prevention of constipation.
The vitamin rich mangoes are also very good for the skin and hair. Mangoes are a good source of zeaxanthin, an antioxidant credited with lowering the risk of age related macular degeneration. It is also a heart healthy fruit.
And if you like using chia seeds, you must check out other unique ways of using it, as in my recipes - Chia Mahalabia with Pistachios and Quinoa Crusted Eggplant Chickpea Patties, where I also discuss about its nutrition benefits.
Globalization has brought many exotic things to your doorstep. So what are you waiting for? Get your mangoes, coconut, lychees and enjoy a tropical summer treat right where you are!!
Chia Seed Recipes:
Coconut Based Recipes:
★ DID YOU MAKE THIS RECIPE? PLEASE COMMENT AND GIVE IT A STAR RATING BELOW!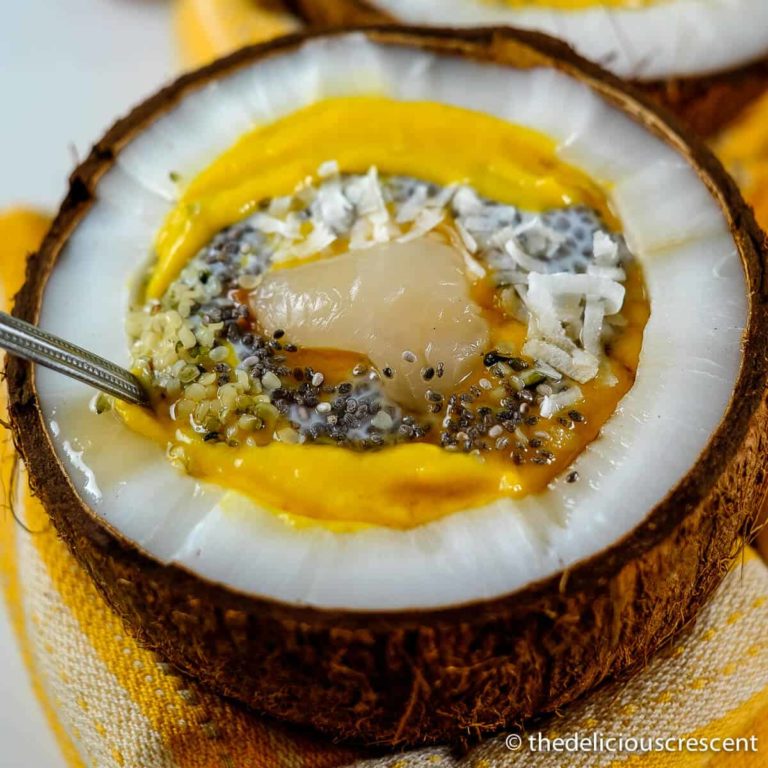 Coconut Mango Smoothie Bowl
Coconut Mango Smoothie Bowl is a delectable treat packed with satiating nutrients - protein, fat and fiber - a sure way to rein in those hunger pangs any day!
Print
Save
Saved!
Course :
Breakfast, Brunch, Smoothie
Instructions
Mix chia seeds with one cup of milk and a teaspoon of honey and let it soak overnight in the refrigerator. It helps to stir it a few times in the first five minutes when the seeds start to absorb the milk.


Blend mango chunks with coconut milk and ¼th cup milk and set aside.


Pour the chia mixture and the mango smoothie randomly in coconut shells or bowls and add the toppings.


Serve the coconut mango smoothie bowl chilled.
Notes
Canned lychees are available at Asian and Indian grocery stores and online.
Nutrition
Serving:
1
Cup
|
Calories:
392
kcal
|
Carbohydrates:
34
g
|
Protein:
14
g
|
Fat:
24
g
|
Saturated Fat:
10
g
|
Cholesterol:
12
mg
|
Sodium:
79
mg
|
Potassium:
500
mg
|
Fiber:
11
g
|
Sugar:
20
g
|
Vitamin A:
636
IU
|
Vitamin C:
32
mg
|
Calcium:
365
mg
|
Iron:
4
mg
More Mango Recipes