Maamoul are buttery date filled middle eastern cookies that will melt in your mouth and are utterly scrumptious. Naturally sweetened with dates these have minimal added sugar. They are popular at Eid, Christmas and other holidays.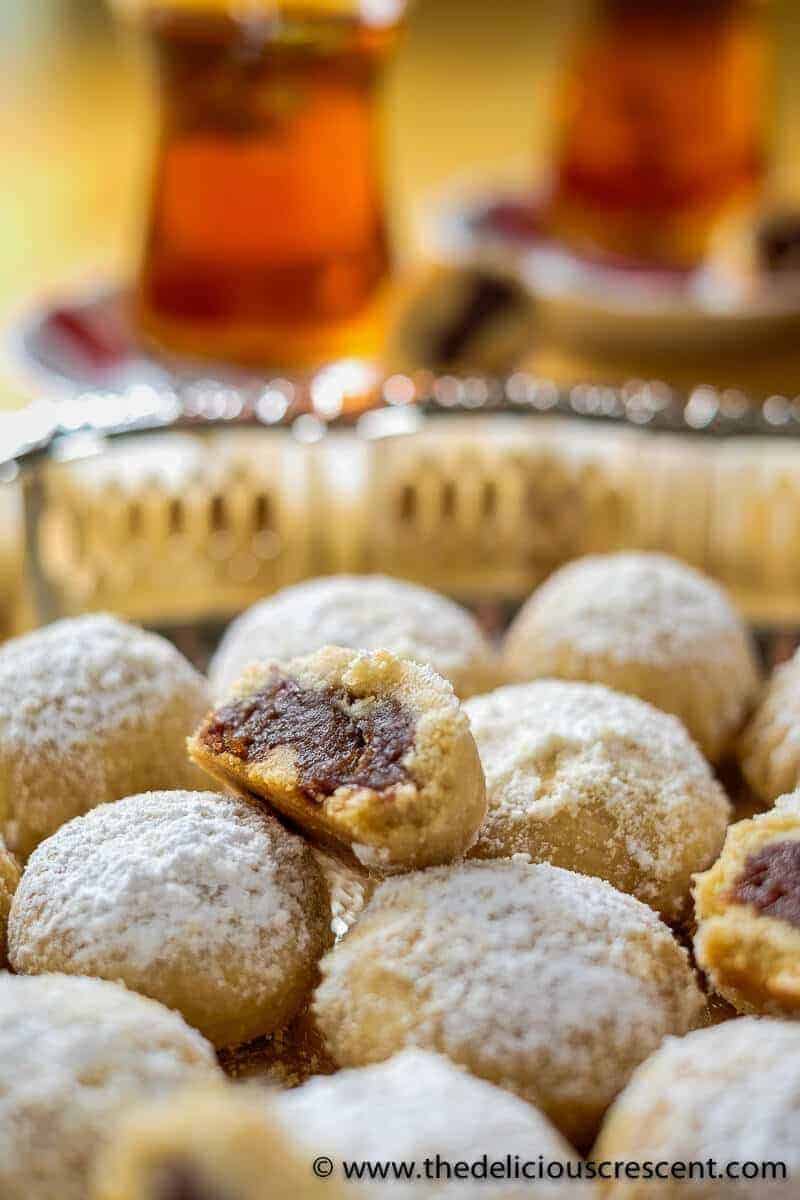 WHAT ARE MAAMOUL COOKIES?
Maamoul cookies are the famous middle eastern shortbread pastries filled with dates or nuts. They are traditional at religious holidays in the Levantine region. And are made by hand or using special wooden molds to create different shapes – round like a ball, crescent form, shaped as a dome or flattened as a disc.
If you are looking for a Maamoul recipe with flour, without yeast, without semolina, and with dates, then this is the one for you. And with this recipe you can learn how to make them handmade or using a cookie mold.
Looking for more delicious baked goodies? Check these out:
By the way, I came across an interesting story that these maamoul cookies may actually have an ancestry in the Egyptian cookie – Kahk, that is shaped like a pyramid and dates back to the Pharaonic era. So much for the lofty beginnings!
MY MAAMOUL STORY
When I was newly married I saw boxes of store bought maamoul at my husband's place and so I decided to learn to make them. I collected recipes from many sources and experimented several times until I found what I liked best. And trust me – the homemade ones are absolutely mouth watering!
I personally do not prefer the semolina based maamoul dough and like the cookies flavored just with rose water. No cinnamon. No orange flower water. Although, the later two flavors are popularly used in the Levantine region. But, for these date filled cookies, I just like to enjoy the natural unflavored taste of dates wrapped in a rose scented buttery dough.
HEALTH BENEFITS – DATE FILLED COOKIES
I love using dates to create sweets and desserts. They are sumptuous and satisfying. For someone with a serious sweet tooth :) just one cookie does it for me!
Dates are high in fiber, potassium, magnesium, vitamin B6 and a good source of niacin, calcium, phosphorus, iron; in addition to other vitamins and minerals. Therefore they are a much better alternative to refined sugar. Studies have shown that the high fiber containing dates may help with lowering of cholesterol and triglycerides.
The mineral content of the dates make them beneficial for bone health. Dates are rich in polyphenols that have been found to have anti-atherogenic, antioxidant and anti-inflammatory properties. The fiber in dates helps with staying regular and relieving constipation.
However, dates are a rich source of carbohydrates and energy. When consumed in balanced amounts they are a great alternative to refined sugar. And work well for healthier desserts, such as – my Luscious date avocado chocolate truffles and Sahlab (orange blossom cinnamon drink).
Is Maamoul Healthy?
Maamoul are naturally sweetened with dates, so are healthier than cookies that have a lot of refined sugar. But it is still a rich cookie dough made with butter, so enjoy these in moderation.
TIPS AND TRICKS FOR MAKING MAAMOUL COOKIES
The steps and the tips in this recipe are written with the idea of making the maamoul cookie recipe accessible to the non-traditional consumer and baker. I learned to make them as someone outside the Levantine culture. So I hope that these tips are helpful to you as well.
I prefer to make them using fresh medjool dates. But I have outlined in the notes section below how they can be made with dates that are not that soft.
Also, if you are using date paste, do make sure to look for any pits. I have always found a small fragment of a pit in the readymade date paste. And it can be dangerous if the pit fragments are left in the filling.
The date paste can be a bit sticky to work with. Application of some oil to the palms or using safe food prep gloves may help while shaping the date paste.
I actually substituted half the flour with whole wheat pasty flour and it tasted great. There was absolutely no difference from the all purpose flour. But if you do not have whole wheat pastry flour, you can just use all purpose flour, as cookies are not typically consumed in large numbers.
I prefer using ghee for making these mamoul as it imparts a nice nutty flavor. Ghee is quite easy to make from butter – check it out in the recipe notes for these Nan-e Nokhodchi cookies.
Traditionally butter or ghee is used for these cookies. For those who would like to make a lighter version of this cookie, some oil substitution works great with no impact on taste. You may use any odorless healthy oil for the recipe.
How to Decorate Maamoul?
I think that it is fun to make maamoul cookies by hand, but if you prefer, you can use maamoul cookie molds to create beautiful shapes and impressions.
Where to buy Maamoul Molds?
You can purchase maamoul cookie molds at middle eastern grocery stores and online on Amazon and other sites.
How to Store Maamoul Cookies?
Do make sure to store the cookies in an airtight container and they will stay fresh for a long time. But perhaps they will disappear sooner than that :) !
Can I Freeze Maamoul Cookies?
Yes you can wrap them well and pack in freezer safe containers or bags and freeze. Thaw them and lightly warm in oven for fresh tasting cookies.
Photography: bijansviewfinder.com
SHARE YOUR THOUGHTS
What cookies do you make at home?
Did you try these famous middle eastern date filled Maamoul cookies?
Do you have any questions about it? Or any suggestions?
Let me know by leaving a comment below, rating it, and tagging it with a photo at #thedeliciouscrescent on Instagram.
And if you liked this post, do share it with your friends!
HOW TO MAKE MAAMOUL COOKIES
Maamoul (Date Filled Cookies)
Maamoul are buttery date filled middle eastern cookies that will melt in your mouth and are utterly scrumptious. Naturally sweetened with dates these have minimal added sugar. They are popular at Eid, Christmas and other holidays.
Print
Ingredients
Dough
1/2

cup

ghee

or butter, grass fed (1/4 lb / 114 g)

1/4

cup

light olive oil

or butter, (56 g)

2 ¼ to 2 ½

cups

all purpose flour

(may use half whole wheat pastry flour)

2

tablespoons

sugar

1 ½ to 2

tablespoons

rose water

or orange flower water

2 to 4

tablespoons

milk

(start with 2 and add as needed)
Date filling
2/3

lb

dates

medjool, soft, pitted and chopped (300 to 325 grams) or (readymade date paste*)
Dusting (optional)
Confectioner's sugar

Finely ground almond meal
Instructions
Preheat the oven to 350°F.

Preparation of the dough
Melt the butter or ghee. Add oil and then mix in the sugar.


In a large mixing bowl, combine the ghee/sugar mixture with flour, working them together with your fingers.


Then add the rose water and mix it in. Next add the milk, one tablespoon at a time. Then knead it all into a pliable dough.


When you add the milk, sometimes it might look like there is too much milk and the dough is sticky. But when you keep mixing it in, the milk gets absorbed.


Let the dough rest for a half-hour. Then roll out 32 portions of the dough into smooth balls. I find this easier because all my cookies more or less turn out the same size.

Preparation of the date filling
Process the chopped medjool dates in a food processor into a smooth mass. If not using soft medjool dates, check the notes section.


Divide the date mass into 32 portions and roll them into smooth balls. Use oil or safe food prep gloves if needed, as the date mass can be sticky.

Shaping of the date filled cookies
Take a dough ball and flatten it. Hold it in the center of your palm and cup it. Place a date ball in the center. Bring the edges of the dough together. Pinch the dough to seal well and then smoothen it out. Press it into a disc.


Use a nut pick or fork to create interesting patterns. Or press the date filled cookie dough into a traditional maamoul mold and gently press to get the pattern on the cookie. Invert and tap the front edge of the mold onto a hard surface like a kitchen counter, and hold your palm under the mold to get the cookie that is released from the mold.

Using a traditional Maamoul mold
Alternatively, a maamoul mold may be used to shape the cookies. In this case, a portion of the dough is first pressed into the mold. Then the date filling is layered on top of the dough.


Next, another portion of the dough is layered over the date filling and smoothened out.


Tap the front edge of the mold on a hard surface like a kitchen counter, and hold your palm under the mold to get the cookie that is released from the mold.


Sometimes I find that this method may not work out too well for all. As it may be difficult to release the cookie dough out of the mold. Sprinkling a little bit of flour into the mold prior to using it may help release the cookie better. Or laying a piece of plastic wrap into the mold prior to packing it with the cookie dough and the filling may help too.


But my preferred method is to make the cookie by hand and then pressing it gently into the mold to create the pattern. It is not traditional to use the mold this way, but it works better and speeds up the process.

Baking the Maamoul cookies
Place the Maamoul cookies, smooth side up (for hand shaped cookies) or the patterned side up as applicable, on a large baking sheet.


Make sure to space them one to two inches apart. Bake for 15 to 20 minutes. Do not let the cookies over bake or turn too brown.


Well baked cookies will appear dry on the surface unlike the moist look of raw dough. Also, they will have a light tan.


Cool the well-baked Maamoul completely on a wire rack. Using a sieve dust some confectioner's sugar or a combination of the sugar with some almond meal. Store the Maamoul cookies in an airtight container.

Notes
1. Add as much flour as the butter/oil mixture will absorb and that usually varies from 2 ¼ to 2 ½ cups 2. You can use one packet of pressed dates (no more than 13 oz) which you can get online or at any middle-eastern store. Just make sure that you check for any pits. 3. If using dates that are not very soft, then place the chopped dates and add some water in a saucepan (start with 2 tablespoons water and add as needed). Dry dates may require more water. Heat it at medium high and when the water bubbles, lower the heat and simmer. The dates should cooked down to a smooth and solid mass. Turn off the heat and allow to cool. 4. Make sure to not use too much filling, or the cookies will crack.    
NUTRITION FACTS
Servings: 32                          
Serving Size: 1 Cookie
Calories 105, Total Fat 5 g (Saturated Fat 2 g, Polyunsaturated Fat 1 g, Monounsaturated Fat 2 g), Cholesterol 8 mg, Sodium 1 mg, Potassium 85 mg, Phosphorus 30 mg, Total Carbohydrate 15 g, Dietary Fiber 1 g, Sugars 7 g, Protein 1 g  
Nutrition
Serving:
0
g
|
Calories:
105
kcal
|
Carbohydrates:
0
g
|
Protein:
0
g
|
Fat:
0
g
|
Saturated Fat:
0
g
|
Polyunsaturated Fat:
0
g
|
Monounsaturated Fat:
0
g
|
Trans Fat:
0
g
|
Cholesterol:
0
mg
|
Sodium:
0
mg
|
Potassium:
0
mg
|
Fiber:
0
g
|
Sugar:
0
g
|
Vitamin A:
0
%
|
Vitamin C:
0
%
|
Calcium:
0
%
|
Iron:
0
%