Egg paratha is omelette stuffed in a layered flat bread. It is a traditional Indian breakfast that is whole grain with high quality protein and good fiber.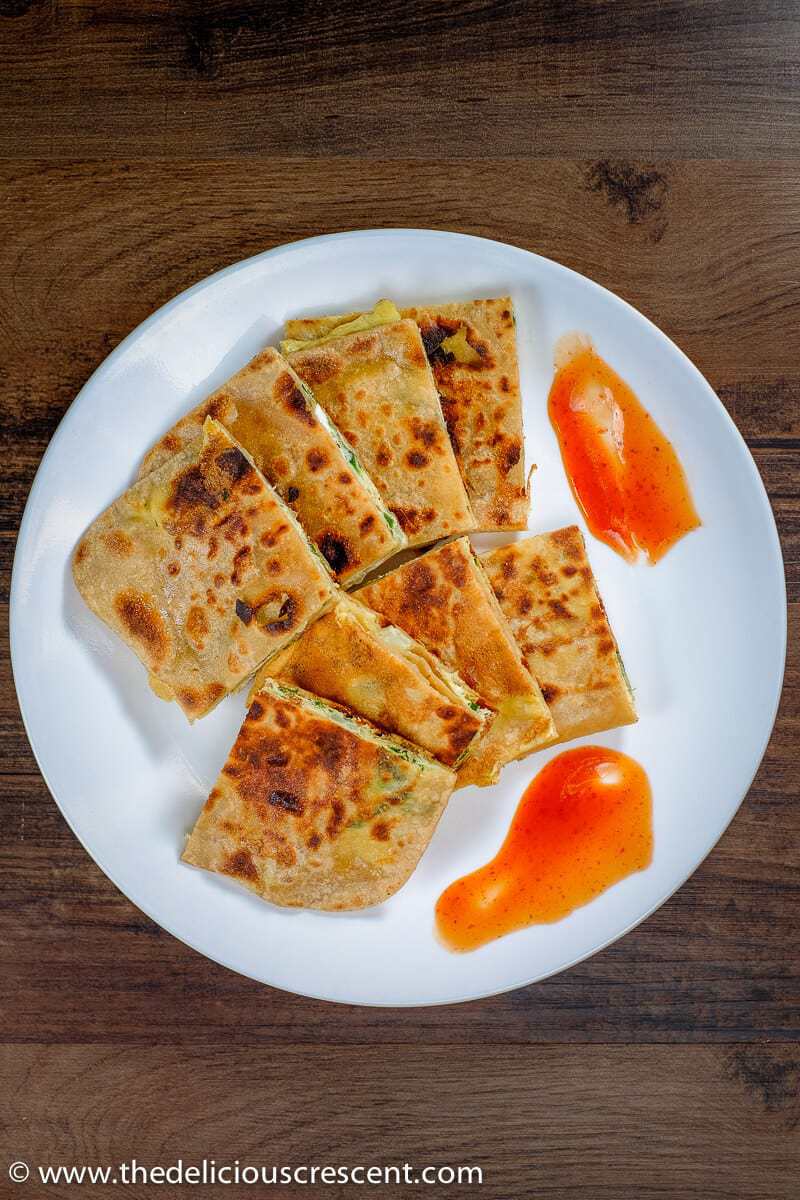 INDIAN PARATHA – BREAKFAST FLATBREAD
Who says that a healthy breakfast has to only be a bowl of processed cereal! Traditional breakfasts can also be very healthy. A good choice could be a flatbread such as Spring Onion Paratha served with some Walnut Chutney or  Nan-e Barbari with cheese.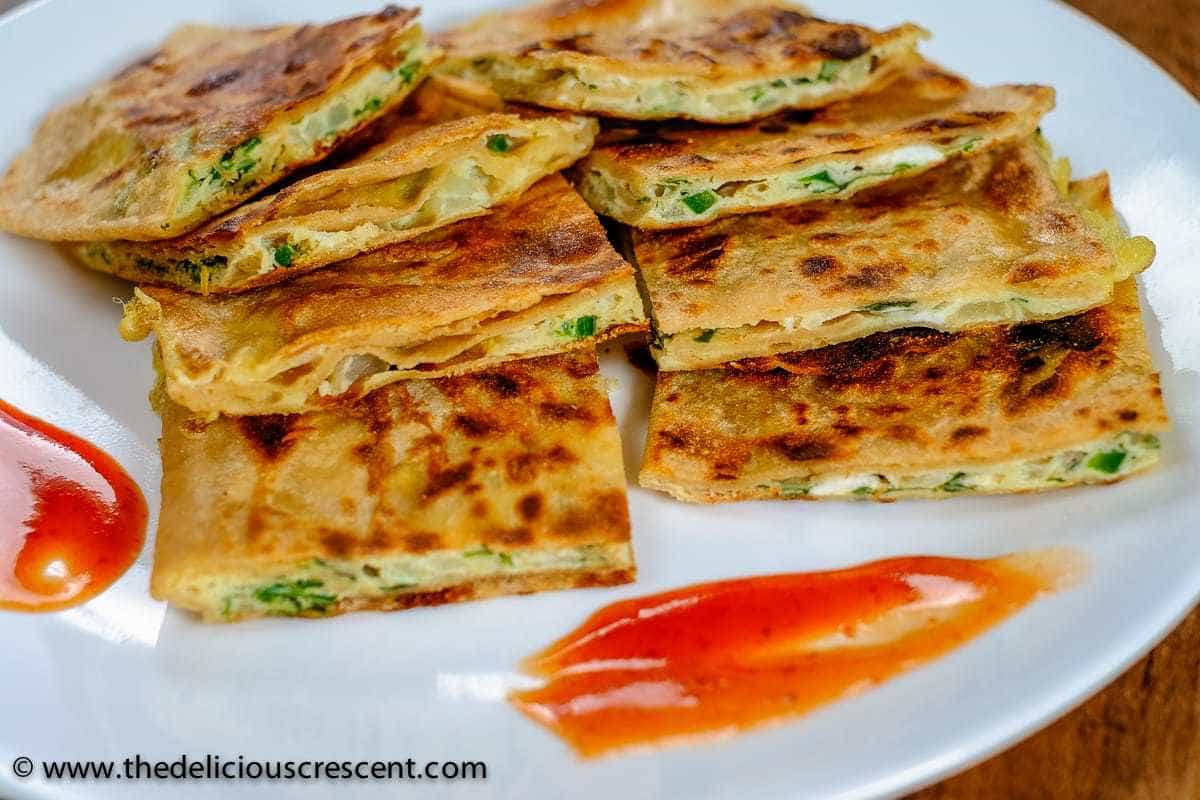 Paratha, is a popular layered flat bread of the Indian subcontinent. It has been a traditional favorite at breakfast in my family.
My mom used to make the best parathas – with so many fine layers in the flat bread and just slightly crisp on the outside, while not greasy like the many that I have come to try later.
I have seen people prepare these with so much oil or ghee, that this much favored food has ended up earning an unhealthy reputation.
HEALTH BENEFITS – MUGHLAI EGG PARATHA
This egg paratha also includes a layer of omelette sandwiched in the middle of the layers. The high quality egg protein, the fiber rich whole grains and adequate healthy fats make this omelette stuffed paratha a wholesome breakfast choice.
The amount of carbohydrate is also much lower than what a typical cereal serving would provide at the same caloric intake. So, for those who are watching their carb intake, this may actually fit in better than many processed cereals.
For more about the nutrition benefits of eggs checkout this easy and tasty Moroccan style poached eggs.
So, here I am presenting a favorite flat bread, prepared with minimal oil but with excellent taste. By the way, this is the first thing that I had started cooking, back when I was eight years old!!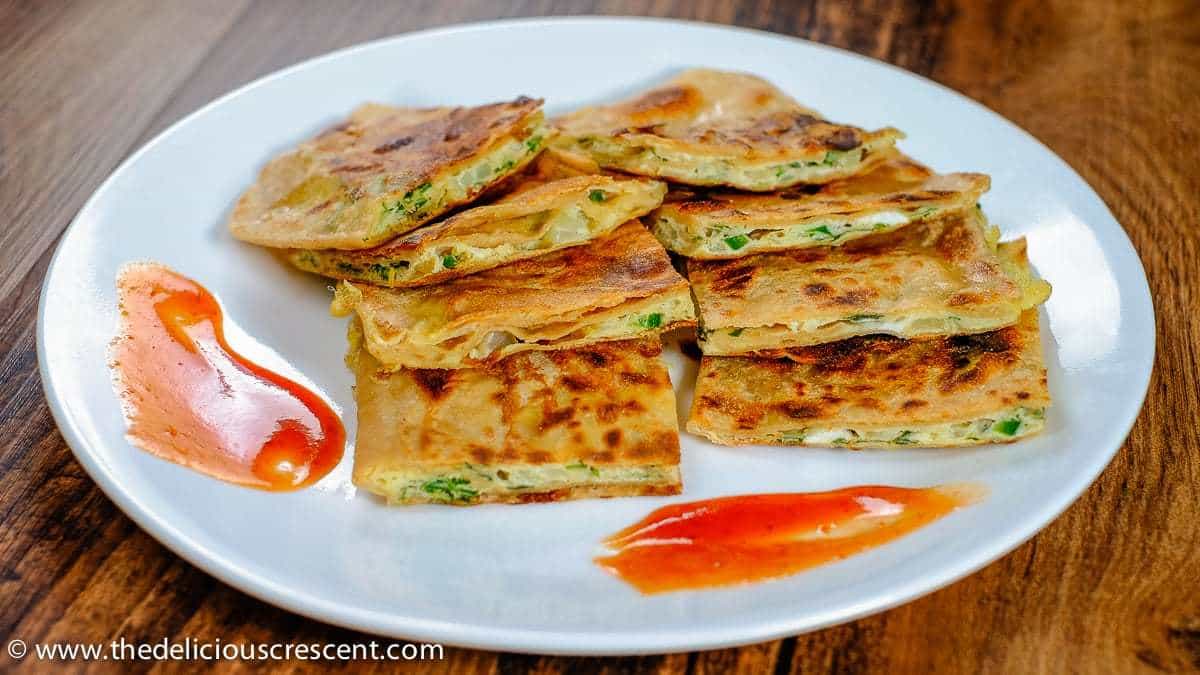 Photography above: bijansviewfinder.com
★ DID YOU MAKE THIS RECIPE? PLEASE COMMENT AND GIVE IT A STAR RATING BELOW!
Tag a photo of your creation at #thedeliciouscrescent on Instagram.
Join me on Pinterest, Facebook, Twitter, YouTube and Google+ for latest updates. 
BEST EGG PARATHA (OMELETTE STUFFED FLATBREAD)
Egg paratha is omelette stuffed in a layered flat bread. It is a traditional Indian breakfast that is whole grain with high quality protein and good fiber.

Print
Ingredients
Paratha Dough*
1/2

cup

water

1

cup

durum whole wheat flour

(Atta)

1/4

teaspoon

salt

1/2

teaspoon

peanut oil
Omelette
6

eggs

small

3

tablespoons

onions

chopped finely

3

tablespoons

cilantro

chopped

1

tablespoon

jalapeño

cayenne pepper, chopped

1

clove

garlic

large, grated

Salt

to taste
Paratha preparation and cooking
3 ⅓

teaspoons

peanut oil

1/2

tablespoon

flaxseed meal

(golden)

Flour for dusting
Instructions
Whisk the eggs. Add the remaining omelette ingredients, whisk and set aside.


Mix 1/2 cup water, 1 cup flour, 1/4 teaspoons salt. Add 1/2 teaspoon oil and knead about 5 minutes into a smooth dough. Divide the dough into four portions and shape them into round balls.


Roll a dough ball into a 4 to 5 inch round or square disc. Apply 1/3 teaspoon oil. Sprinkle some flour and 1/3 teaspoon flaxseed meal.


From one side fold one third of the disc.


Then from the other side fold over the previously folded layer.


Fold one third of this rectangular layered dough from one side.


Next, fold over from the other side to make a square shaped layered dough portion.


Roll it out into a 6 inch square layered bread, using a little flour for dusting as needed.


Heat a skillet at medium setting. The skillet is ready for cooking when you can feel the heat while holding your palm 3 inches above the skillet.


Place the layered flat bread and allow it to cook for about 1 to 2 minutes. Flip it over and cook another 1 to 2 minutes until light golden brown.
(This stage is very important. You have to make sure to cook the paratha just enough, so that you will be able to separate the layers easily in the next step. But at the same time you should not overcook both the sides, otherwise at the end the paratha will be over cooked or over browned).

Transfer the paratha to a wooden board and with the help of a knife carefully open up the middle layer on two sides.


Place the flat bread back on the skillet. Quickly lift the top layer and spread 1/4th of the omelette mixture and cover the layer.


Allow it to cook for 1 to 2 minutes. The omelette mixture should start to set.


Flip it over. Use about 1/4 teaspoon of oil for each side while cooking the egg paratha to doneness and golden brown.


Repeat the above steps for the remaining three flat layered breads. May serve this egg paratha with chutney, yogurt dip, pickles or ketchup.

Notes
The dough can easily be made in a stand mixer, but you may need to double the quantity of the ingredients, depending on the size of the stand mixer.  
NUTRITION FACTS
Servings: 4               
Serving Size: One paratha
Calories 233, Total Fat 10 g (Saturated Fat 3 g, Polyunsaturated Fat 3 g, Monounsaturated Fat 4 g), Cholesterol 212 mg, Sodium* 228 mg, Potassium 217 mg, Phosphorus 230 mg, Total Carbohydrate 23 g, Dietary Fiber 4 g, Sugars 1 g, Protein 11 g *Not including salt for omelette mixture  
Nutrition
Serving:
0
g
|
Calories:
233
kcal
|
Carbohydrates:
0
g
|
Protein:
0
g
|
Fat:
0
g
|
Saturated Fat:
0
g
|
Polyunsaturated Fat:
0
g
|
Monounsaturated Fat:
0
g
|
Trans Fat:
0
g
|
Cholesterol:
0
mg
|
Sodium:
0
mg
|
Potassium:
0
mg
|
Fiber:
0
g
|
Sugar:
0
g
|
Vitamin A:
0
%
|
Vitamin C:
0
%
|
Calcium:
0
%
|
Iron:
0
%