Baharat spice blend is warm, aromatic, and easy to make. This multipurpose homemade mix is the best to spice up all your delicious middle eastern recipes. Takes only a few minutes to make and is easy to store.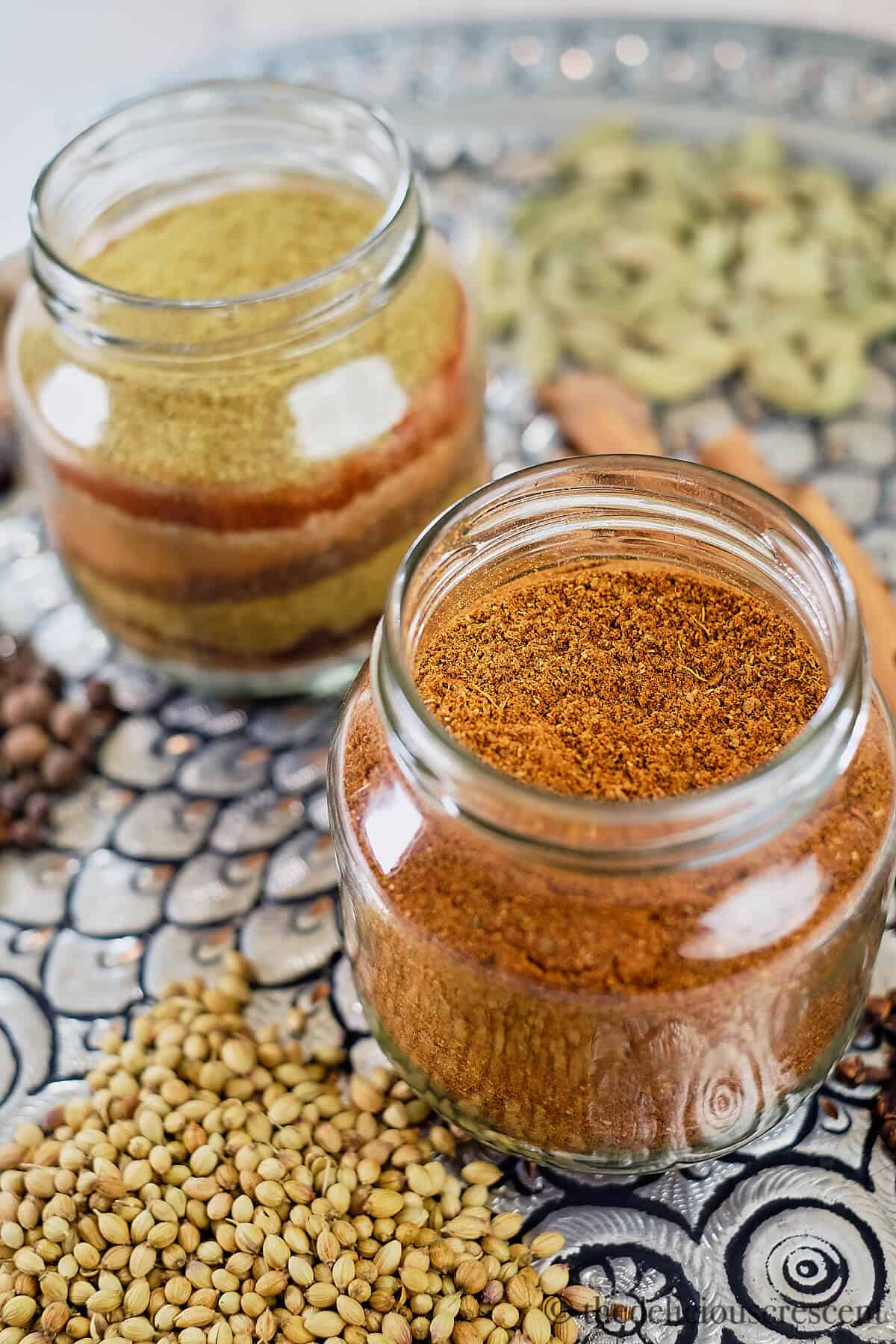 What is Baharat?
Baharat is an aromatic spice blend used in the eastern mediterranean and the middle east to flavor a variety of recipes such as meats, stews, soups, pilafs, vegetables and more.
A staple in the middle eastern pantry, this spice blend has several ingredients in common with advieh (Persian spice mix) and garam masala recipe (Indian spice blend). However, it has its own distinct flavor profile. While all three blends are aromatic, baharat is milder like advieh, and not as intense as garam masala.
Baharat means "spices" in Arabic and is supposed to have originated from the word "Bharat" which denotes India, the land of spices. In fact, many of these spices originate from there.
In this blog post, I share with you everything you need to know about this amazing spice blend. And you will quickly learn how simple it is to make the spice mix, which will give an authentic touch to your middle eastern dishes. Homemade blends are fresher and produce far more tastier results!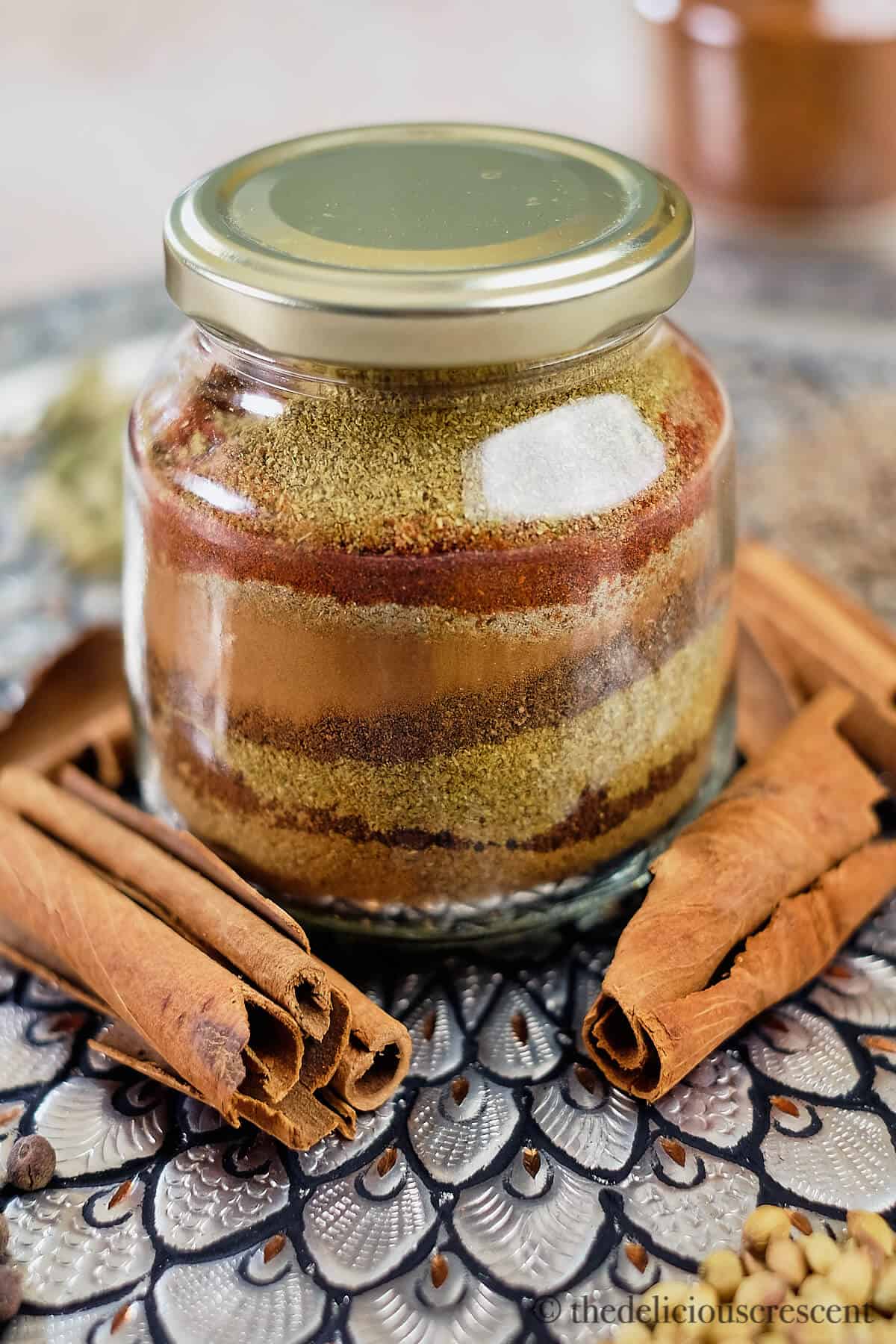 What Spices Are in Baharat?
The most common ingredients are black peppercorns, coriander seeds, cinnamon stick, cloves, allspice, cumin seeds, cardamom seeds, nutmeg and paprika. It is a balanced flavor mix, in which no single flavor dominates.
As with any spice blend, there are regional variations. In Turkey, baharat spice mix often includes dried mint, whereas in north Africa, the blend may feature dried rosebuds, black pepper and cinnamon. In the Persian gulf region, it may include dried lime powder and saffron, which are also widely used in Persian cuisine.
Further, certain baharat variations do not use paprika, while a few may include sumac, turmeric or star anise. Some middle eastern spice blends are made to suit specific dishes or ingredients, but this baharat blend is for all-purpose use.
How To Make Baharat Spice Blend
**Brief overview here. Full recipe is at the end of post.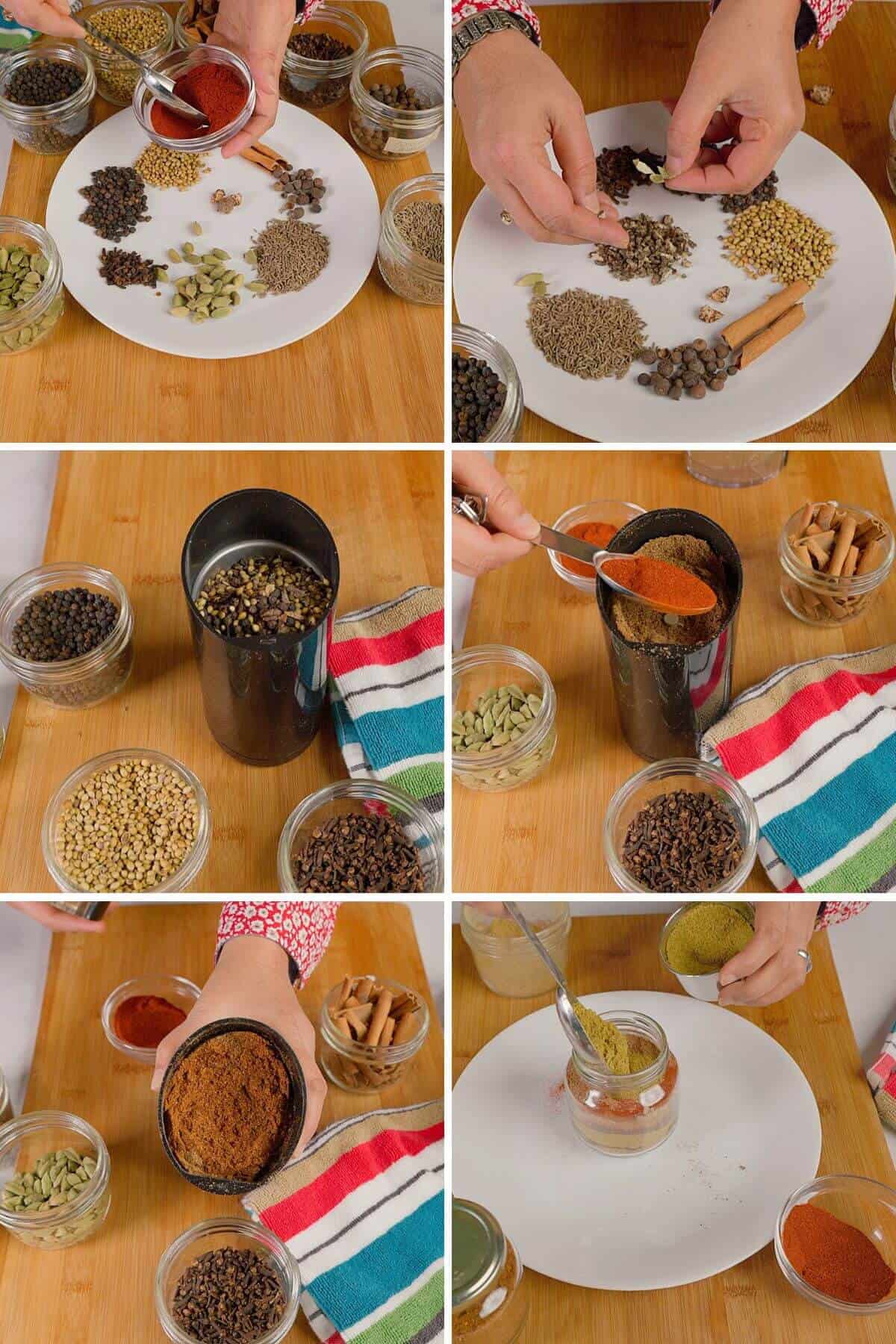 There are two ways to make baharat.
Using ground spices: Simply combine the individual ground spices in specific amounts. This may be the modern way to do it, as ground spices are readily available. You can mix it all up or layer it beautifully.
Using whole spices: Measure the whole spices and grind it into a powder. You dont have to toast the spices as we do for garam masala, as roasting intensifies the aroma. And we are not looking for the intensity of the Indian spice blend. If you do decide to roast the spices, then that version will be more suitable for meat dishes.
Top Tips
Fresh Spices: This is the secret to incredible tasting middle eastern dishes. Buy your spices fresh, in small quantities, from stores with a fast turnover. You don't want stale spices that have been on shelves for too long.
Where to Buy: The best places to buy spices are ethnic and specialty stores, where they sell in bulk, such as Whole Foods. My favorite places to get fresh and less expensive spices are popular Indian and middle eastern stores.
Quantity: Use smaller amounts for vegetables and soups. Stews, meats, fish and poultry can handle more spice flavors.
Use a clean spice grinder. To get rid of odors and crossover flavors, simply grind a handful of rice, discard, wipe it clean and use the grinder.
Make it Your Own: Finally, you can even adjust the spice proportions to suit your taste.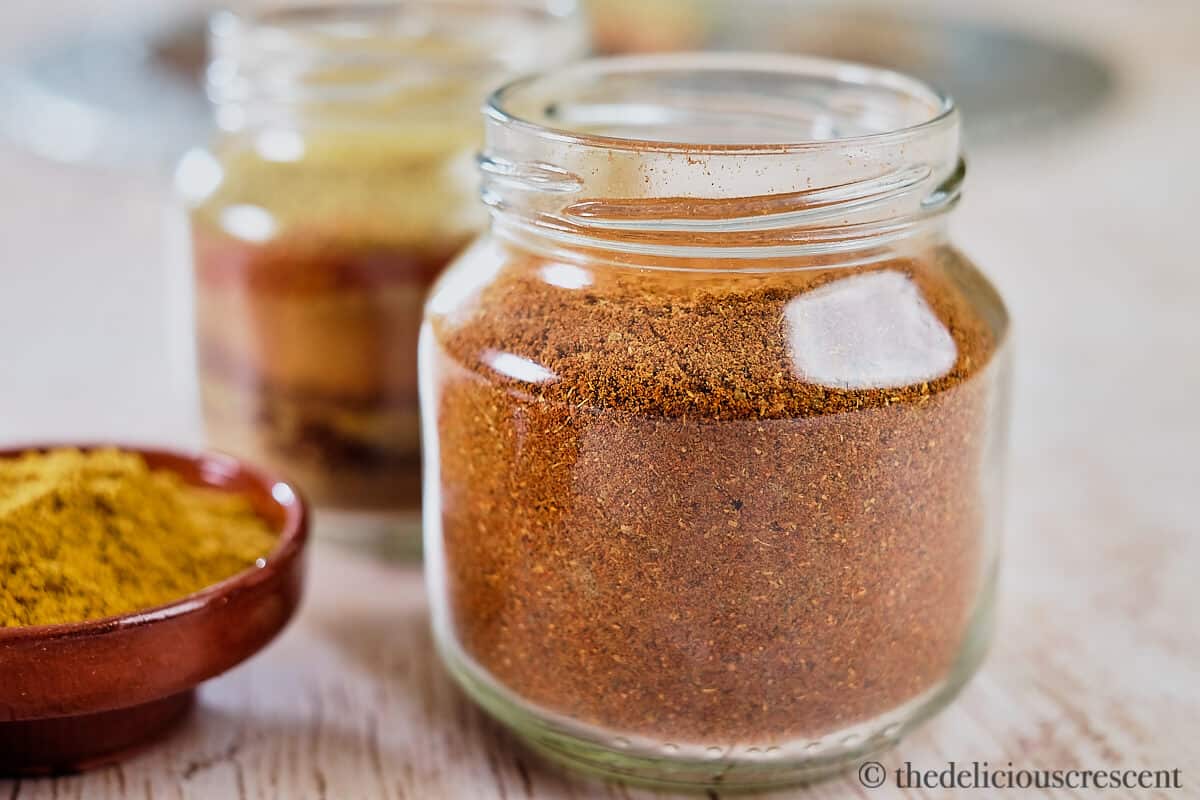 How to Use Baharat Seasoning
Seasoning: To flavor rice dishes, stews, soups, beans, grains, vegetables etc. Such as the popular Egyptian rice dish koshari, with oven roasted okra or to spice the filling in meat pies. The famous rice recipes such as chicken kabsa and mandi rice, do have specific spice blends, but baharat mix can work as a substitute.
Spice Rub: As a dry rub for grilled beef and lamb, fish, chicken and such. Try it for shishlik (lamb chops), joojeh kabobs (chicken kabobs) and almond crusted fish. Just replace the seasonings.
Marinade: To spice up your kebabs, koftas, shawarma. Although I use a special spice blend for my roast lamb shawarma, you can use baharat instead of that.
Condiment: To sprinkle on top of breads, dips, sauces and spreads. Top it on whole wheat pita bread with olive oil, cheese and toast it. Use it with the nut and seed topping for a white bean hummus or lightly sprinkle on squash puree.
Gifts: Homemade spice blends are a popular gift item. You can pack it in beautiful glass containers with a ribbon tied on top. Fill it with the fully ground mix or layer individual ground spices for a colorful presentation that reminds one of the bazaars of the middle east!
How To Store
Store freshly ground baharat spice mix in glass containers, seal tightly and place in a cool, dark place. Use it within 3 months. You can also vacuum pack the spice mix to prolong the shelf life.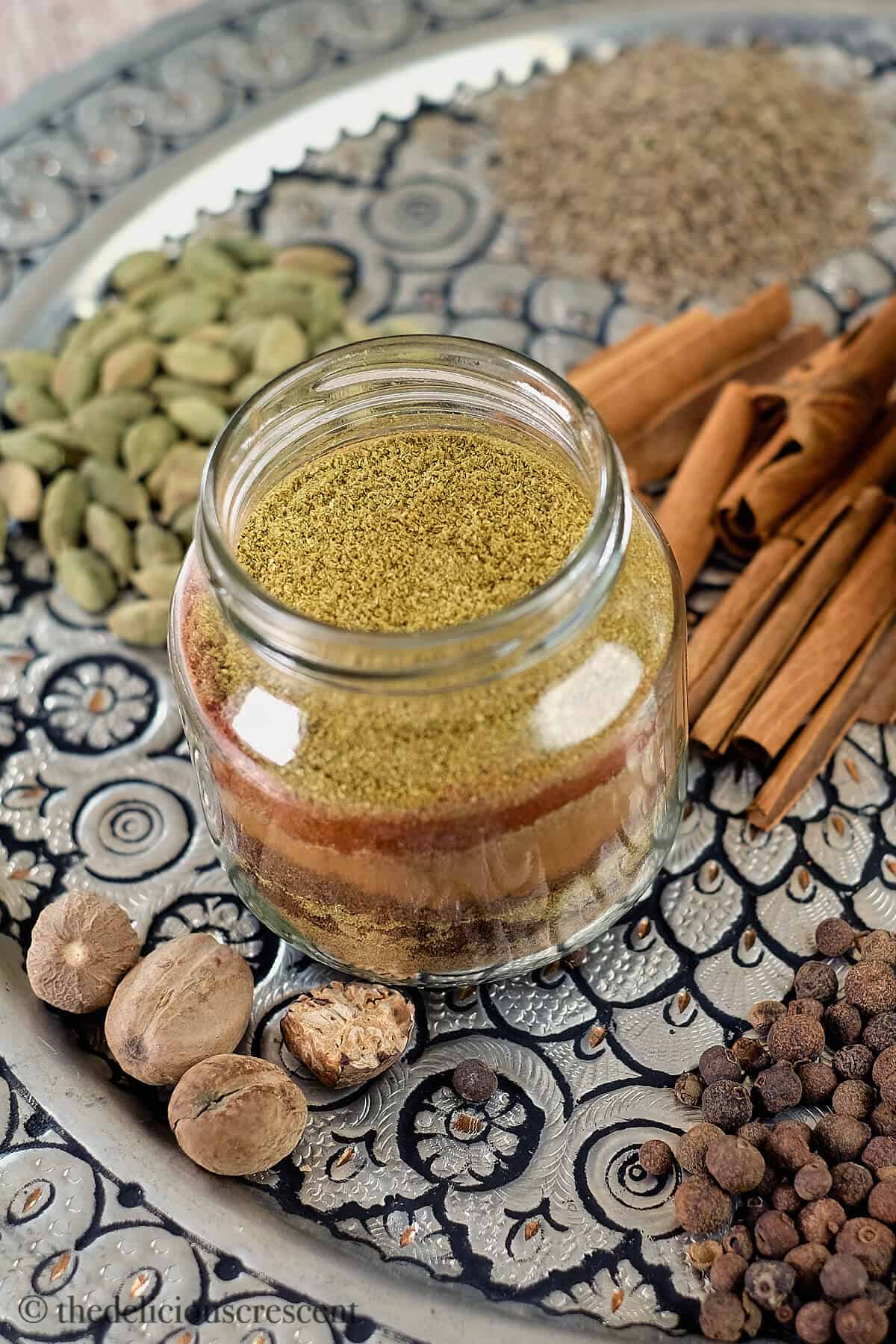 Recipe FAQs
What is a good substitute for baharat spice mix?
Every spice blend has its unique flavor so try to make it if you can. However, the only spice blend from that region that is subtle like baharat, is the Persian blend advieh. Garam masala is more intense and spicy. Even the Moroccan blend ras el hanout is too distinct to use as a replacement.
What does baharat taste like?
It is a spice blend that includes various flavor tones - warm, aromatic, earthy, floral and spicy. The overall flavor profile is very balanced, mildly sweet, earthy, slightly smoky, but not spicy. Aromatic but not intense like garam masala.
Can you freeze baharat?
No, I would not freeze spice mixes, because of the risk of moisture absorption or ice crystal formation. Instead you could try vacuum sealing the spices to extend the shelf life.
Is baharat good for you?
Baharat contains spices that are full of health benefits. They are rich sources of antioxidants, phytonutrients and polyphenols with great health promoting properties.

These compounds are supposed to have anti-inflammatory, digestive, cardio-protective, anti-carcinogenic, carminative, anti-oxidant and other healing properties. We use spices in small quantities, but when used in several recipes, over time we gain the benefits.
Where to buy baharat spice mix?
The best place to buy this would be at your local middle eastern or mediterranean store. Make sure to pick a popular store. You can also buy this spice blend online at Amazon and other retailers.
More Middle Eastern Recipes
★ DID YOU MAKE THIS RECIPE? PLEASE COMMENT AND GIVE IT A STAR RATING BELOW!
Baharat Spice Blend Recipe
Baharat spice blend is warm, aromatic, and easy to make. This multipurpose homemade mix is the best to spice up all your delicious middle eastern recipes. Takes only a few minutes to make and is easy to store.
Print
Save
Saved!
Instructions
Using Whole Spices: Place all the whole spices in a clean spice grinder (see note) and grind until fine. Add paprika and pulse to combine. Use a fine-mesh strainer to remove any coarse pieces.

Using Ground Spices: If you already have the ground form of the spices, you may simply combine the ground spices in the specified quantities. Use a ratio of 3 parts for each whole spice - [black pepper, ground coriander, ground cumin, ground cinnamon, ground cardamon, grouch nutmeg, ground cloves (or ½ cloves + ½ allspice)] and 5 parts paprika.

Store freshly ground baharat spice mix in airtight glass containers in a cool, dark place. Use within 3 months or vacuum seal for longer shelf life.
Notes
Make half the quantity if you don't used this blend often.
If using mortar and pestle instead of a spice grinder, then opt for readymade ground cardamom, because pounding cardamom seeds can be difficult.
Toasting the whole spices is not typical for making baharat. But if you do, it will make the flavors more intense. Simply dry roast the spices in a skillet at medium-high heat until aromatic, about 2 to 3 minutes, stirring often to prevent the spices from burning. Allow to cool and then grind.
Paprika: For a twist, you can try using smoked paprika.
Clean spice grinder: To get rid of odors, simply grind a handful of rice, discard and wipe it clean..
Check blog post above for more tips, where and how to buy spices, how to store and FAQs, etc.
Nutrition
Serving:
1
tablespoon
|
Calories:
18
kcal
|
Carbohydrates:
3
g
|
Protein:
1
g
|
Fat:
1
g
|
Saturated Fat:
0.2
g
|
Polyunsaturated Fat:
0.2
g
|
Monounsaturated Fat:
0.2
g
|
Sodium:
4
mg
|
Potassium:
84
mg
|
Fiber:
2
g
|
Sugar:
0.3
g
|
Vitamin A:
666
IU
|
Vitamin C:
1
mg
|
Calcium:
28
mg
|
Iron:
1
mg
More Spice Blend Recipes