Adas polo is an amazingly delicious Persian lentil rice that is topped with raisins, dates and barberries. Easy to make, this recipe can be made vegan or with meats. It is great for both weeknights or festive times.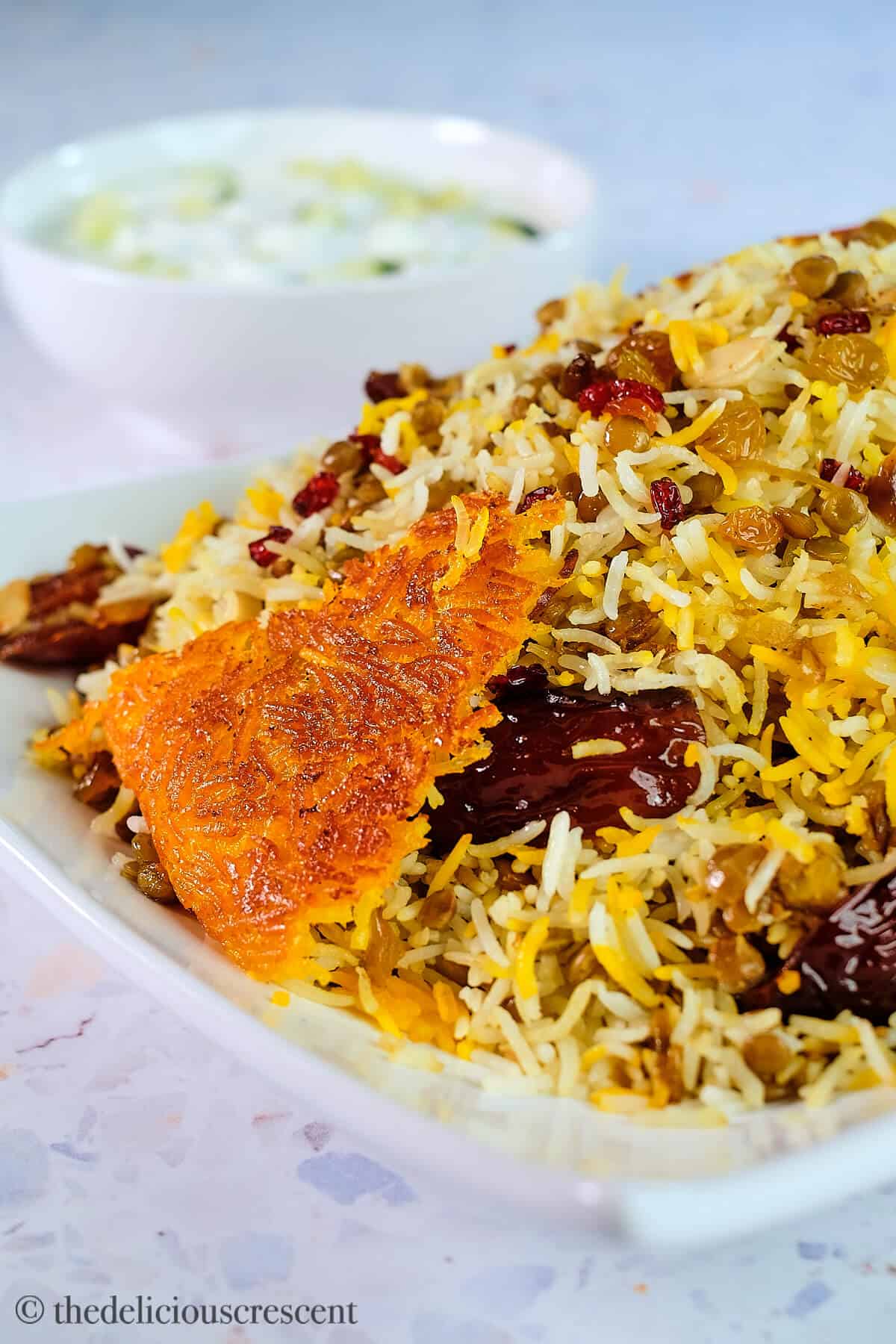 What is Adas Polo?
Adas polo is a traditional Persian lentil rice that is popular in Iran. It is made with a rice crust (tahdig), but you may also try using potato wedges, bread slices or lavash to make the crust.
Often made with lamb shoulder, this rice dish can be made vegan like the recipe here. Chicken, beef and ground meats will be ok to add as well.
My husband's great grandmother used to cook whole lamb shoulder with onions and spices. After de-boning, the meat is cut into small pieces and used with the lentils. The leftover broth is used to make soup with carrots, peppers, tomatoes, cabbage, herbs and thickened with some flour.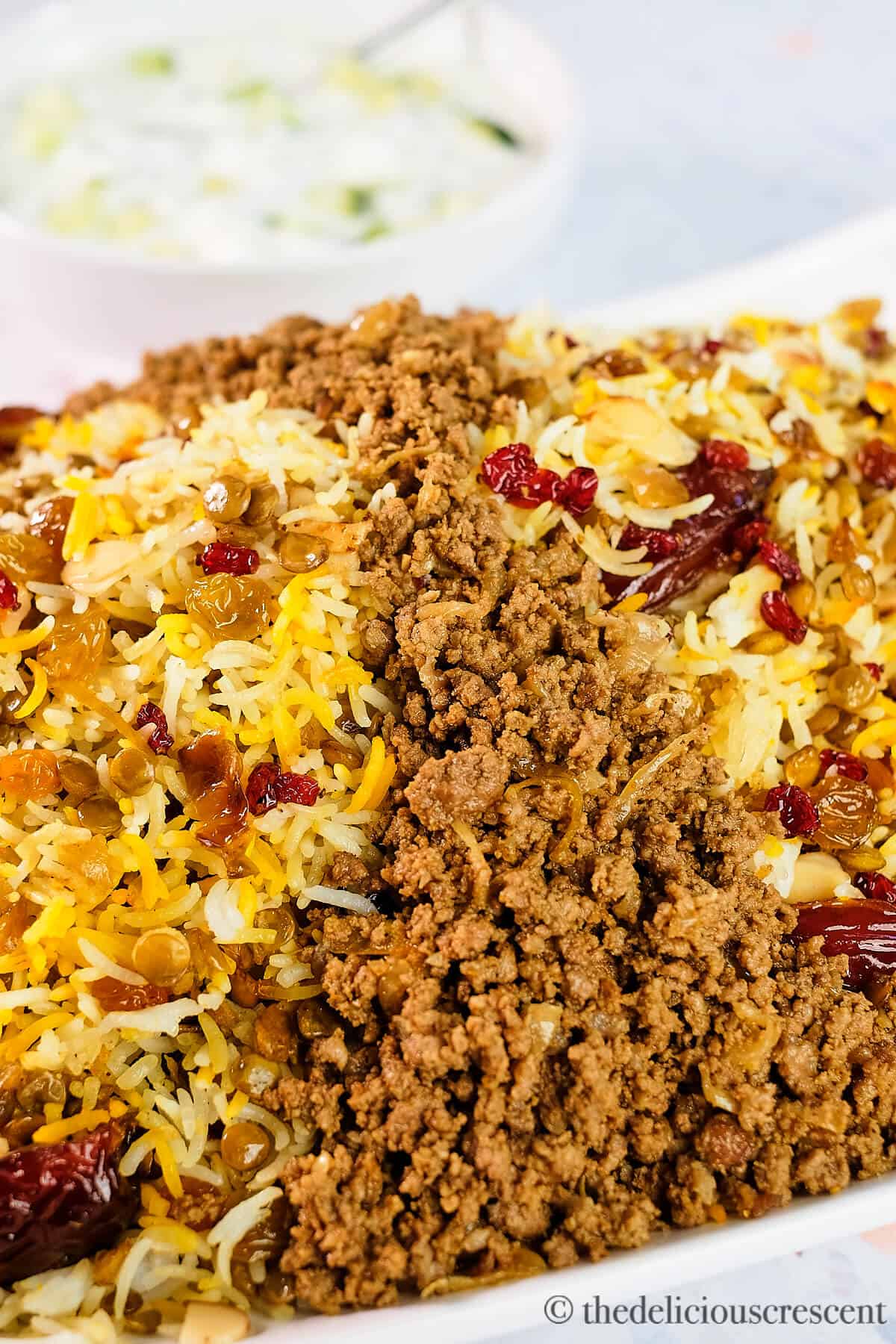 The dried fruits make this recipe pretty festive. And the savory and sweet tastes combine pretty well to give you a dish that is both easy and fancy. Top it with lots of caramelized onions if you wish.
Recipe Ingredients
Lentils: I use regular green or brown lentils that are easily available. But you could also try the French green lentils, which are a bit smaller in size and have a nice bite. I make sure to consider the colors of the dried fruits used while choosing the type of lentils.
Rice: Choose high quality long grain basmati rice. White rice is traditional but you may try brown basmati too. Ask for the premium variety among the popular brands at your Indian grocery store. Premium versions of India Gate, Royal and Zebra are some options to consider.
Onions: Regular yellow onions are fine for this recipe.
Meat (optional): Ground meat is an easy and quick choice. But traditionally lamb shoulder is used. You can also try chicken thighs or boneless beef. See recipe notes section.
Seasonings: Salt, pepper and turmeric.
Advieh (Persian spice mix): I have a blog post with a variety of Persian spice mixes. Use the adiveh for polo (rice), but if you don't have that, use advieh for khoresh (stew).
Saffron: Select high quality saffron and grind it in a mortar with a pinch of salt. More on saffron in this Saffron tea post.
Olive Oil: Regular olive oil works very well for this. Any cooking oil without a strong flavor should be fine.
Raisins: I chose golden raisins (sultanas), but you may also use dark raisins.
Dates: Medjool dates are easily available and work well in this recipe. They are soft and easy to bite into.
Barberries (zereshk, optional): These red ruby-like Persian berries are tangy and light. They are a delight to cook with and you can find them online.
Almond slices (optional): I like the crunch of toasted almond slices on some of my rice dishes. But you may totally skip it, if you don't want to use it.
Butter or ghee: This I use only to make the rice crust (tahdig). You can use oil instead, if you prefer. But butter or ghee gives a very rich flavor to the crust.
Yogurt: Just plain yogurt is what we need. Whole or reduced fat will work. This is used for making the rice crust.
Adas polo with its' wonderful mix of flavors, textures and colors will become your go-to recipe for a quick fancy meal.
How to Make Persian Lentil Rice
*Full recipe at the end of blog post.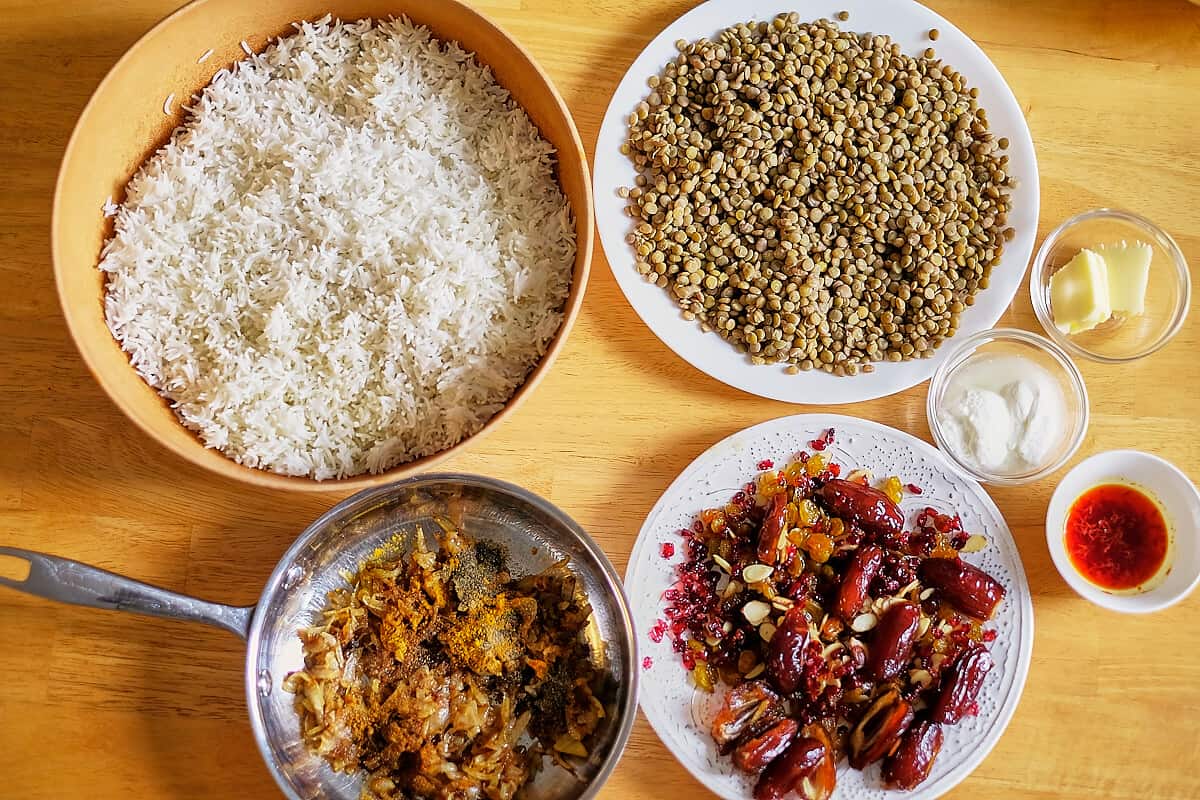 Cook Lentils: Cook lentils with water and salt until well done but still with a nice bite.
Saute Onions: Saute sliced onions with garlic. Add all spices. Stir in lentils.
Cook Rice: Prepare rice using the stove top method or rice cooker until it is fluffy. Stir some cooked rice with saffron water and set aside for garnish.
Dried Fruits: Saute dried fruits and nuts.
Assemble: Layer rice and lentil mixture and steam together in a cooking pot or rice cooker.
Serve: Stir the rice and lentil layers and serve on a platter. Top with sautéed dried fruits and saffron rice.
Persian Rice Crust (Tahdig)
Traditional Persian rice recipes include the preparation of a rice crust in the bottom of the pan. This is optional but recommended. Details in recipe card below. If you would like to try that, check this recipe - Saffron Yogurt Rice with Spinach and Prunes.
What To Serve Along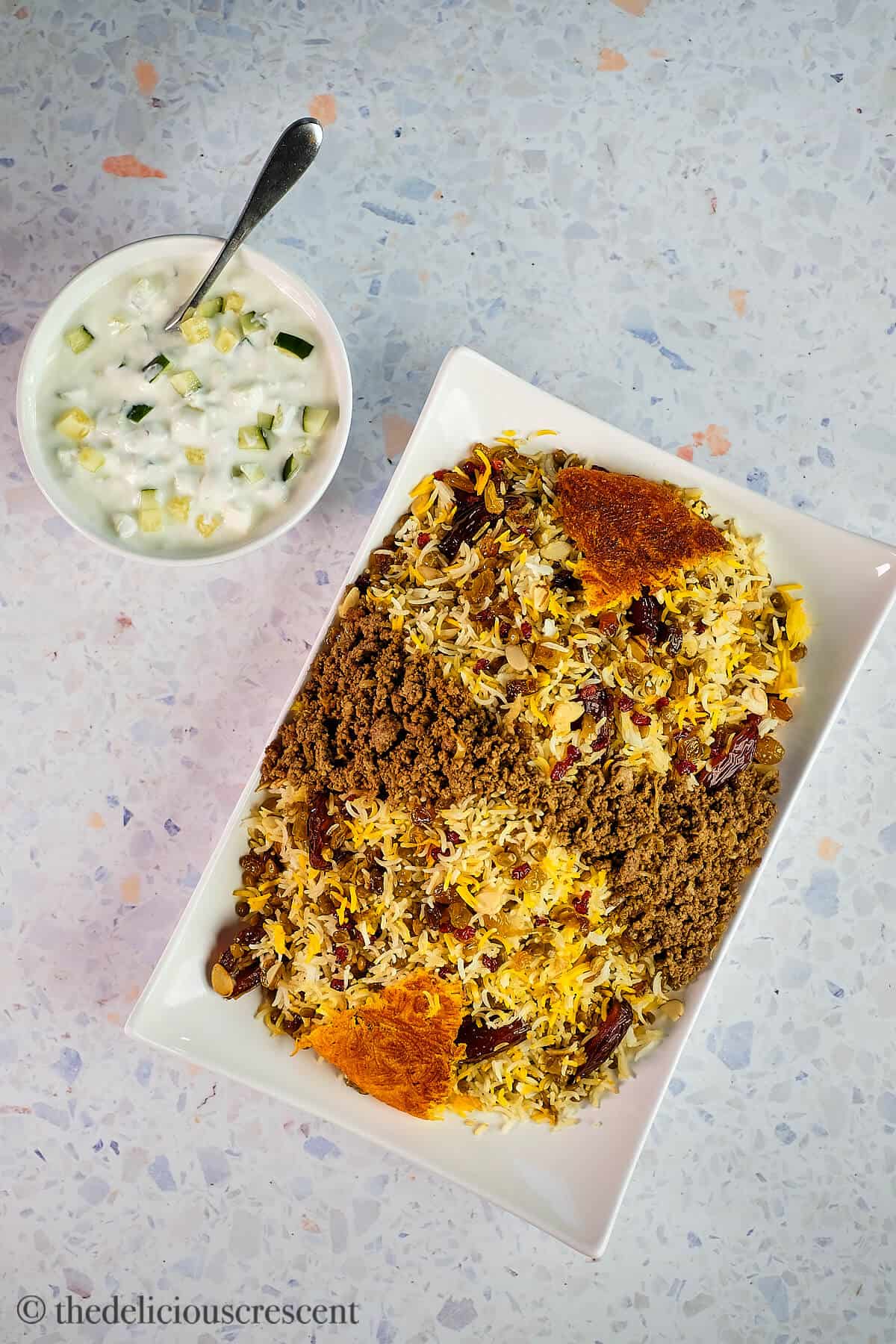 Variations
You may try these other options below.
Vegan/Dairy Free: Use only oil and skip the use of ghee, butter or any yogurt for the rice crust (if making). Or try using coconut yogurt instead of dairy yogurt.
Lower Carb/Grain free: I have not tried this but you may try using cauliflower rice instead of basmati rice.
Healthier: Instead of white basmati rice use brown basmati rice, adjusting the cooking time for the rice.
You could even try combinations with wild rice or quinoa.
Make Ahead and Leftovers
Cook the onion-lentil mixture and refrigerate up to 2 to 3 days ahead. You can also freeze it for couple months. Just thaw and layer it with cooked rice and steam it all together.
Can You Freeze Adas Polo?
Adas polo freezes perfectly. You can even pack it in smaller servings for lunch boxes. Just thaw and microwave or reheat on stove top after sprinkling some water.
Nutrition Facts
This recipe is gluten free, egg free and soy free. To make it low sodium, reduce the salt and use more lemon juice.
Lentils are rich in protein, fiber, folic acid, manganese, iron, phosphorus and phytochemicals. They are also a great source of soluble fiber, which helps with lowering cholesterol levels. Regular consumption of lentils is associated with lower risk of heart disease and obesity.
Raisins and dates add some burst of sweetness to this dish but it is still wholesome and not refined sugar. You can lower the amount of these dried fruits or eliminate altogether.
More Lentil Recipes
★ DID YOU MAKE THIS RECIPE? PLEASE COMMENT AND GIVE IT A STAR RATING BELOW!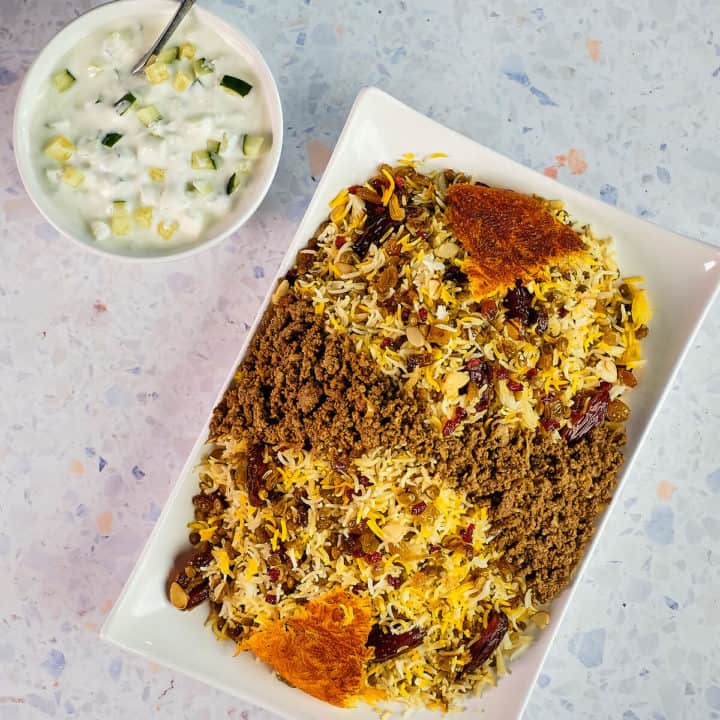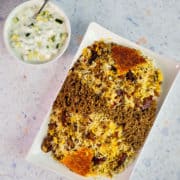 Adas Polo (Persian Lentil Rice)
Adas polo is an amazingly delicious Persian lentil rice that is topped with raisins, dates and barberries. Easy to make, this recipe can be made vegan or with meats. It is great for both weeknights or festive times.
Print
Ingredients
Optional
1

lb

ground meat

(beef or lamb) or 1½ lbs lamb shoulder with bone or 2 lbs chicken thighs, see note
For rice crust (optional)
2

tablespoons

butter

or ghee

2

tablespoons

yogurt
Instructions
Notes
Rice:

Rinse rice several times until the water is clear and not starchy.
Always check package for cooking times or test it out with a small quantity first.
To make the rice crust, use a conventional heavy bottomed cooking pot, a non stick pot or a Persian rice cooker.
Ask for premium variety among the popular brands of long grain basmati rice at your Indian grocery store. India Gate, Royal and Zebra are some options to consider.

Advieh, the Persian spice mix and barberries (zereshk) are available at Persian or middle eastern stores and online. You may substitute advieh with mild mediterranean or middle eastern mixed spice blend.
How to clean barberries (zereshk): Remove the tiny stems and place the berries in a colander and immerse in a bowl of cold water for about 20 minutes, until all the sand settles in the bottom of bowl. Rinse the berries very well to make sure there is no sand.
Make Ahead: The lentils can be cooked a day ahead and refrigerated. Onions can be sautéed and seasoned on the previous day as well. The lentil-onion mixture can be frozen and used later with rice.
Leftovers: Can be refrigerated for 4 to 5 days. You can freeze lentil rice for couple months. Thaw and reheat. Sprinkle some water as needed while reheating.
Optional meat or Chicken:

You may add 1 lb ground meat (beef or lamb) to half the sautéed onions and cook it until well done. Add that on top of the plated rice.
Alternatively you may cook 1½ lbs lamb shoulder (with bone) or 2 lbs chicken thighs with sliced onions, salt, pepper, turmeric and advieh until well done. It may take 1 ½ to 2 hours to cook lamb and 1 hour to cook chicken. Add the cooked meat or chicken to the lentils and sautéed onions. You may brown or broil (at high) the meat or chicken before or after cooking for added flavor.

Cook it in Oven: Alternatively, the rice and lentil layers may be placed in an oven proof dish, covered and then baked at 350 degrees F for about one hour.
For other variations, tips and serving suggestions, scroll up the page to the blog post.
Nutrition
Serving:
1
Cup
|
Calories:
382
kcal
|
Carbohydrates:
68
g
|
Protein:
10
g
|
Fat:
8
g
|
Saturated Fat:
1
g
|
Polyunsaturated Fat:
1
g
|
Monounsaturated Fat:
5
g
|
Sodium:
266
mg
|
Potassium:
466
mg
|
Fiber:
9
g
|
Sugar:
8
g
|
Vitamin A:
26
IU
|
Vitamin C:
3
mg
|
Calcium:
50
mg
|
Iron:
3
mg
More Rice Recipes